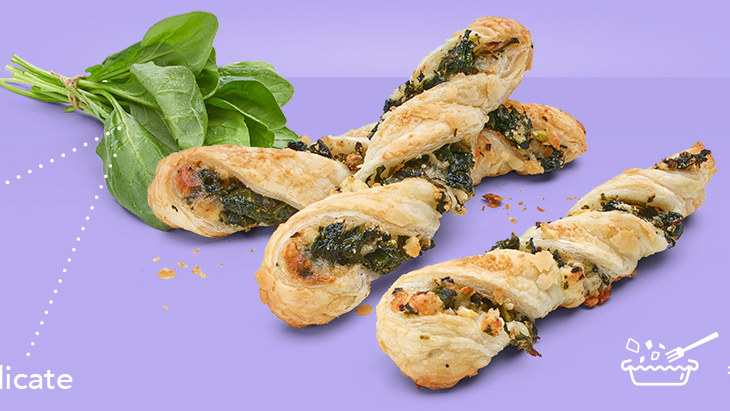 SERVES:

18

PREP TIME:

10

minutes
BAKE TIME:

16

minutes
TOTAL TIME:

26

minutes
ingredients
1 pkg. Tenderflake® Puff Pastry thawed as per box instructions
2 cups (500 mL) Spinach freshly washed and roughly chopped
3 tbsp. (45 mL) water
2 tbsp. (30 mL) lemon juice
1-cup (250 mL) Feta cheese crumbled
1/2 cup (125 mL) grated mozzarella cheese
1/2 cup (125 mL) green onion finely chopped
1/2 tsp. (2 mL) nutmeg
Pinch of salt and pepper
2 tbsp. (30 mL) Parmesan cheese finely grated
directions
Pre-heat oven to 450 Degrees F. Line two baking trays with parchment paper and set aside.
In a medium sauce pan over medium high heat, blanch spinach in water and lemon juice, roughly 2 minutes. Carefully transfer spinach with remaining liquid to a food processor and pulse on low until finely chopped.
In a medium sized bowl, combine spinach, feta, mozzarella, green onion, nutmeg, salt and pepper and set aside.
On a lightly floured surface, roll out 1 block of puff pastry into a 9 x12 inch rectangle. Spoon half of the spinach mixture onto one half of rolled pastry leaving a 1/2 inch border edge. Using your finger, run some water along the border. Fold other half over mixture and gently seal edges. Slice pastry horizontally into 9, 1- inch strips.
Gently twist each strip twice creating a spiral affect. Place strips on parchment lined baking tray. Evenly sprinkle 1 tbsp. of Parmesan cheese over twists. Repeat with remaining pastry and filling.
Bake for 16 minutes until golden brown and puffy. Remove from oven and serve warm.
Tips: Tip:
In a pinch use one 300 g box of frozen Spinach thawed and drained.