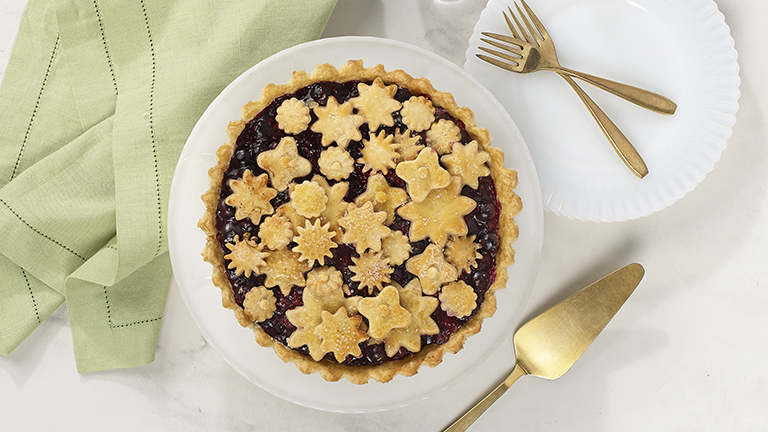 ,
SERVES:

6

PREP TIME:

30

minutes
BAKE TIME:

55

minutes
TOTAL TIME:

85

minutes
ingredients
1 pkg Tenderflake® Regular Pie Shell
4 cups (946 mL) frozen mixed berries (any combination will work)
3/4 (177 mL) cup sugar
1/4 (60 mL) cup tapioca starch
1 tbsp (10 mL) lemon zest and juice
1 tsp (5 mL) vanilla extract
1 egg
1 tbsp (15 mL) milk
2 tbsp coarse sugar mixed with 1 tsp cinnamon
2 tbsp (30 mL) coarse sugar mixed with 1 tsp cinnamon
directions
Flatten a thawed pastry shell and use flower shaped cookie cutters to make cut-outs. Reroll any scraps and use to make remaining shapes.
In large bowl, combine fruit, sugar, tapioca, lemon zest, lemon juice and vanilla and let stand 15 minutes.
In small bowl, whisk together egg and milk
Fill bottom crust with fruit mixture and top decoratively with pastry flowers and leaves, overlapping slightly. Brush with egg mixture and sprinkle with cinnamon sugar. Bake in a 400°F (205°C) oven for 25 min. Reduce heat to 350°F (176°C) and bake just until curst is golden and juices are bubbling, about 30 minutes. Allow pie to cool for at least one hour before slicing.