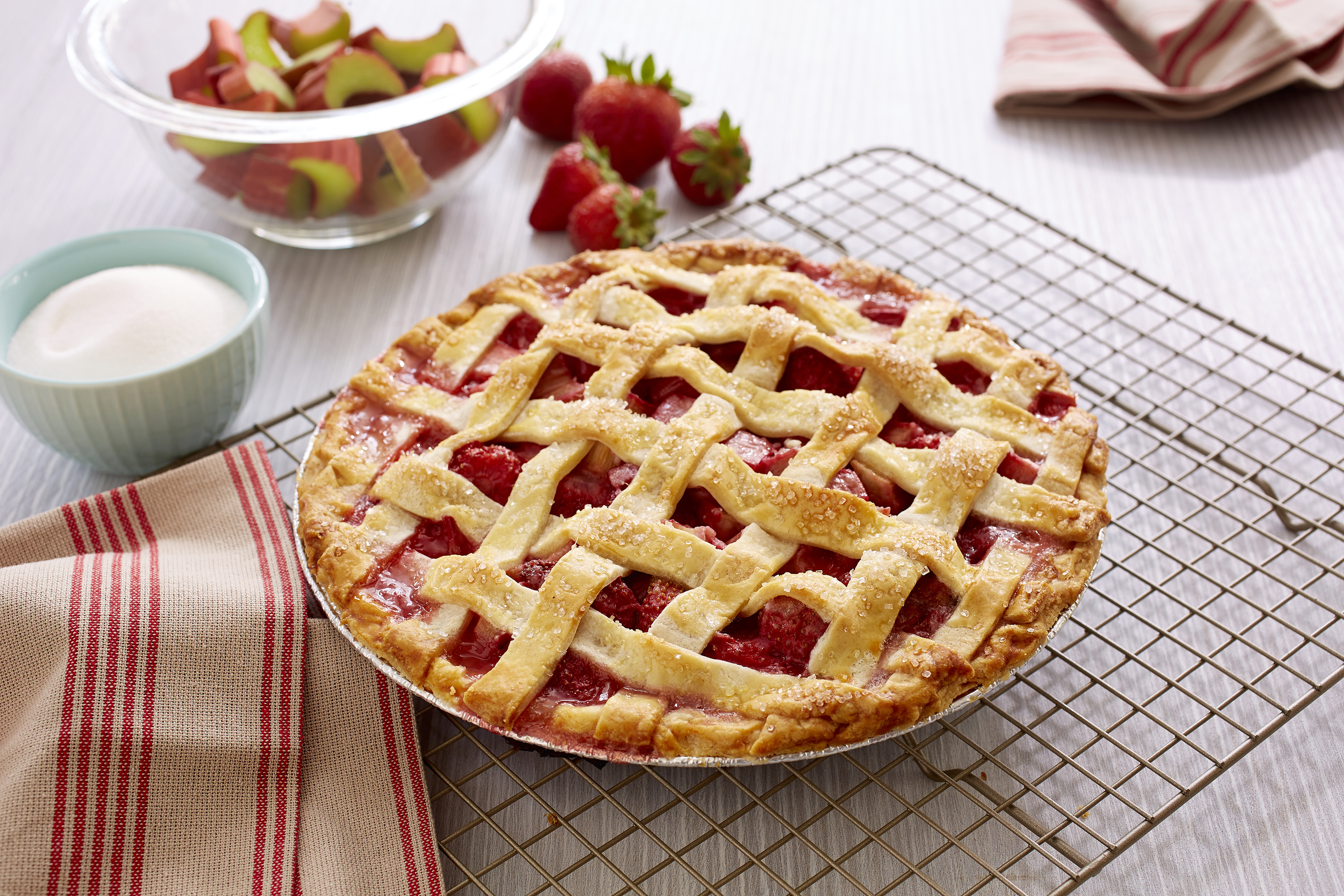 Strawberry Rhubarb Lattice Pie
SERVES:

8

PREP TIME:

20

minutes
BAKE TIME:

75

minutes
TOTAL TIME:

95

minutes
ingredients
2 Tenderflake® Frozen Deep Dish Pie Shells
½ cup (125 mL) All purpose flour
1 cup (250 mL) Sugar
1 lb (450 g) Chopped fresh rhubarb (4 cups fresh chopped)
2 cups (500 mL) Quartered strawberries
1 tsp (5 mL) Vanilla
2 tsp (10 mL) Freshly grated gingerroot
2 tbsp (30 mL) Cold butter, cut into cubes
1 Egg, beaten
2 tbsp (30 mL) Sugar or course sugar
directions
MIX together flour and sugar in a large bowl. Add rhubarb, strawberries, ginger and vanilla. Toss to coat. Set aside and let stand for 20-30 minutes.
MEANWHILE preheat the oven to 400°F (200°C). Place the filling into one of the pie shells. Scatter the cold butter over top.
GENTLY pry the other pie shell from the foil tray and turn onto a lightly floured work surface. Using a lightly floured rolling pin, roll the pie shell to about 10" (25 cm) in diameter. Using a sharp knife or a pizza cutter cut the pie shell into 1" (2.5 cm) strips. Weave the strips on top of the pie in a lattice fashion. Trim the ends even with the bottom crust and seal closed. Brush the pastry with the beaten egg and sprinkle with additional sugar.
BAKE in preheated oven for 35-40 minutes or until bubbly and the pastry is golden brown. Cool on a rack prior to serving.
Tips: TIP: For a real homemade look, transfer pie from foil pan into your own 9" (23 cm) pie plate.