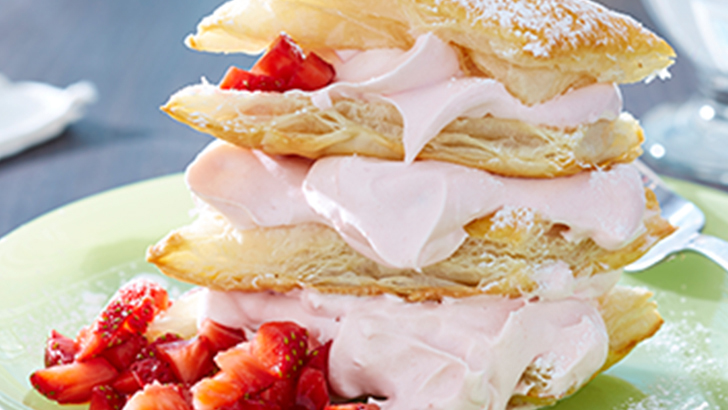 Strawberry Whipped Cream With Puff Pastry
PREP TIME:

15

minutes
BAKE TIME:

25

minutes
TOTAL TIME:

40

minutes
ingredients
1 package (397 g) Tenderflake® Frozen Puff Pastry, defrosted
1 Egg
1.5 cups (375 mL) Whipping cream (35%)
.66 cup (150 mL) Seedless strawberry jam
2 cups (500 mL) Diced fresh strawberries
.25 cup (60 mL) White balsamic vinegar
Icing sugar
directions
PREHEAT oven to 400°F (200°C). On a lightly floured work surface with a lightly floured rolling pin, roll each puff pastry square to a 9"x6" (23×15 cm) rectangle. Whisk egg with 1 tbsp (15 mL) of water. Brush over pastry. Place on a baking sheet lined with parchment paper. Bake for 20-25 minutes or until golden and crispy. Cut each rectangle into six equal pieces.
HEAT vinegar in a small saucepan over medium-low heat. Cook stirring occasionally until thickened to a syrup and reduced by half. Let cool. Drizzle vinegar syrup over fresh strawberries, toss gently to coat.
BEAT whipping cream and jam together, using a stand mixer or electric beater until firm peaks form.
ASSEMBLE by topping four pieces of puff pastry with Πcup (60 mL) of whipped strawberry cream, then another puff pastry, followed by another 1/4 cup (60 mL) of whipped strawberry cream. Top with final puff pastry squares. Divide strawberries between the four desserts and garnish with a dusting of icing sugar.