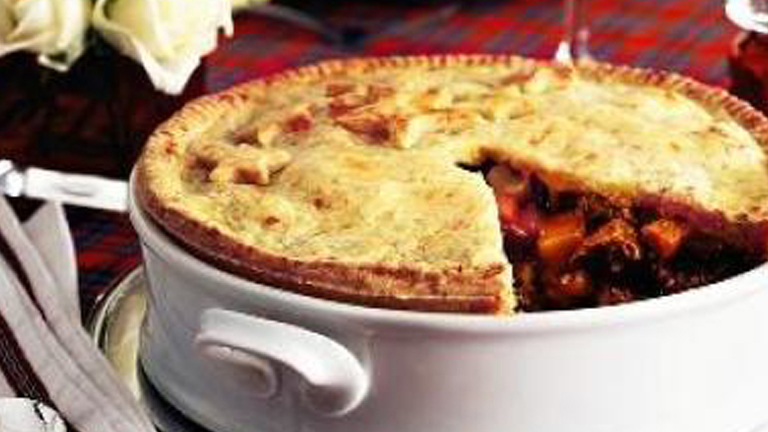 PREP TIME:

20

minutes
BAKE TIME:

205

minutes
TOTAL TIME:

225

minutes
ingredients
¼ cup (60 mL) Flour
Salt and pepper
2 lbs (1 kg) Stewing beef
1 tbsp (15 mL) Vegetable oil
4 Carrots, diced
3 Potatoes, diced
2 Cloves garlic, sliced
1 cup (250 mL) Mushrooms, quartered
1 (10 oz/284 mL) Can beef broth
¼ cup (60 mL) Red wine
1 Bay leaf
2 Sprigs fresh thyme
1 Tenderflake® Frozen Deep Dish Pie Shell, thawed
1 Egg, lightly beaten
directions
PREHEAT oven to 300°F (150°C).
COMBINE flour, salt and pepper in a large bowl. Add stew beef and toss to coat. Heat oil in a Dutch oven over medium-high heat. Add beef and brown on all sides. Remove and set aside. ADD carrots, potatoes, garlic and mushrooms to the pot and cook 4-5 minutes, stirring frequently. Return beef to pot and add broth, wine, bay leaf and thyme. Add water, if needed, to almost cover meat and vegetables. Bring to a boil. Cover and transfer to preheated oven for 2 œ -3 hours or until beef is tender and falls apart. Remove from oven.
INCREASE oven temperature to 350°F (180°C).
COAT an 8 cup (2 L) casserole dish with non-stick cooking spray. Fill with beef stew. Remove pie pastry from foil pan and gently place on top of beef stew, pinching the edges all around the dish. Make 3 small slits in top of crust to allow steam to escape. Brush pastry with egg and bake in preheated oven until golden brown, about 20 to 25 minutes.