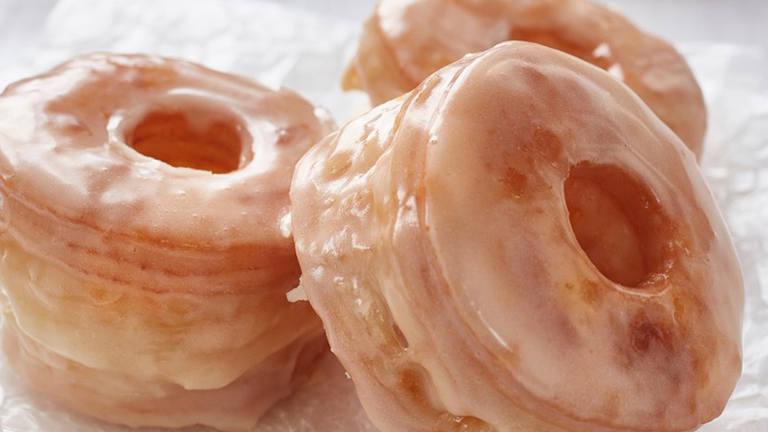 ,
PREP TIME:

15

minutes
BAKE TIME:

35

minutes
TOTAL TIME:

50

minutes
ingredients
1 pkg Tenderflake puff pastry
1 egg, lightly beaten
8 cups (2L) vegetable oil, for frying
||
Glaze :
1 ½ cups (375 mL) icing sugar
¼ cup (60 mL) milk
2 tsp (10 mL) pure vanilla extract
directions
Roll out each sheet of pastry to make a 12-inch square.  Brush each sheet with egg and then fold each into thirds (like a letter) and place into a parchment lined baking sheet. Chill in the refrigerator for 15-20 min.
Heat oil in a deep fryer or saucepan until it reaches 350F (180C).
Using a 2œ-inch round cutter, cut each folded pastry into 6 rounds and with a 1-inch circle in the center to make the cronuts. (The inside rounds can be used to make cronut bites)
Place the cronuts in the oil in batches (Keep remaining cronuts in the fridge until you are ready to cook them), flipping them occasionally with a slotted spoon, until puffed and golden, about 5 minutes. Remove them from the oil and place on a paper towel-lined baking sheet. Repeat with remaining pastry.
Sift icing sugar into a medium sized bowl to make the glaze. Slowly whisk in the milk and vanilla to make a smooth, glossy glaze.
Dip each warm cronut into the glaze and place on cooling rack until ready to serve.
Tip: These are best served warm/room temperature on the same day they are made.. The cronuts can be made ahead and kept wrapped in the freezer ready to be fried at the last minute.