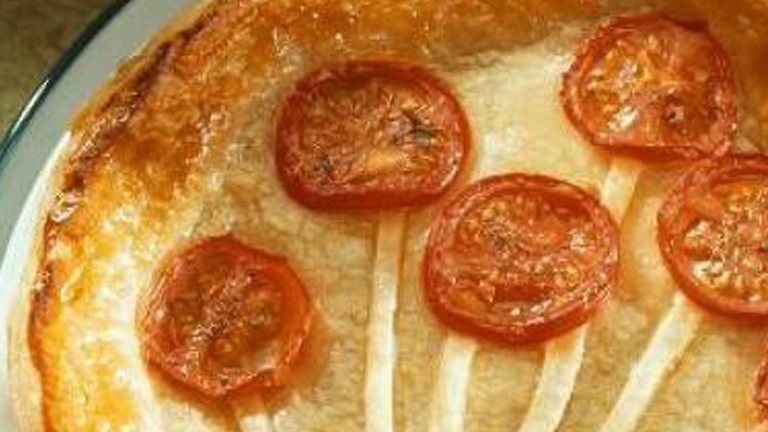 PREP TIME:

10

minutes
BAKE TIME:

15

minutes
TOTAL TIME:

25

minutes
ingredients
½ (397 g) Package Tenderflake® Frozen Puff Pastry, thawed overnight in refrigerator
4 Ripe plum tomatoes, thinly sliced
4 tbsp (60 mL) Olive oil
2 Cloves garlic, minced
Salt and pepper
2 tsp (10 mL) Dried Italian seasoning
Fresh sage leaves for garnish
directions
ROLL out puff pastry on a lightly floured surface to a very thin 18×14 inch (45×35 cm) rectangle. Using a small plate as a guide, cut four 7 inch (18 cm) rounds. Lightly dust two baking sheets with flour and transfer two pastry rounds to each sheet. Cover and refrigerate for at least 30 minutes. Reserve any pastry scraps to make decorative stems and leaves.
PREHEAT oven to 400°F (200°C). Position one oven rack in the bottom third and the other in the top third of the oven.
COMBINE olive oil and garlic. Lightly brush over each round of pastry reserving some of the oil. Arrange sliced tomatoes over pastry to look like flowers. Use the leftover pastry to create stems and leaves. Drizzle with remaining olive oil. Season with salt, pepper and Italian seasoning. Bake for 15 minutes or until pastry is golden brown. Garnish with fresh sage leaves.