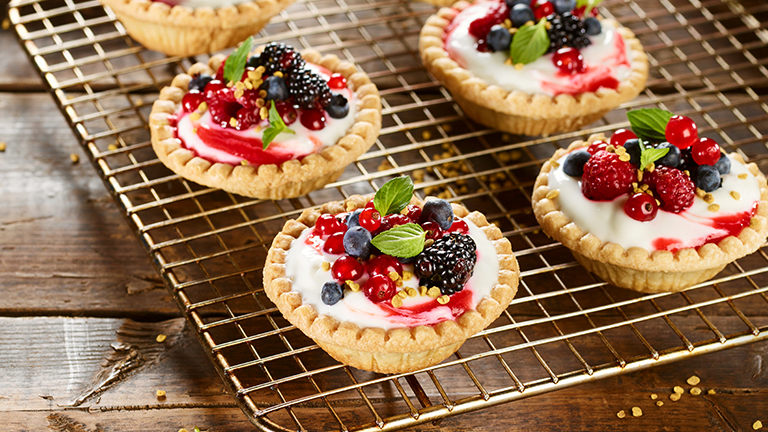 Vanilla Yogurt and Raspberry Tarts
SERVES:

12

PREP TIME:

10

minutes
BAKE TIME:

10

minutes
TOTAL TIME:

20

minutes
ingredients
Raspberry Coulis
1 bag frozen raspberries
1/4 cup fine sugar
1 tbsp. unflavored gelatin
2 tsp. lemon juice
||
Tart Shells
1 box Tenderflake® Tart Shells (thawed)
2 cups vanilla greek yogurt
1/4 cup each fresh raspberries, blackberries, blueberries and red currents
2 tsp. fine sugar
½ cup bee pollen
Fresh mint leaves for garnish
directions
To prepare the raspberry coulis, add all ingredients into a blender and puree until smooth.
Put a sieve over a bowl and pour the puree onto the sieve to remove seeds. Cover the bowl and store in the fridge until ready to use.
* Left over coulis can be kept in an airtight container for up to three days in the refrigerator.
Bake tart shells according to package instructions. Set aside.
In a medium saucepan, over medium heat, melt sugar until dissolved, roughly 1-2 minutes. Remove from heat and stir berries.
Spoon 1 tsp. of coulis into the base of each tart. Top with a generous tablespoon of yoghurt. Using a toothpick swirl coulis into yoghurt for marbled effect.
Top each tart with berries. Garnish with bee pollen and mint leaves. Refrigerate until ready to serve.