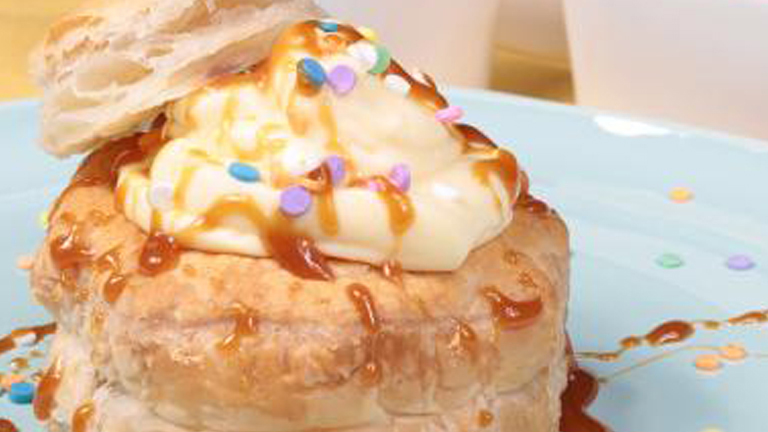 White Chocolate-Dulce de Leche Puff-Patty Shells
PREP TIME:

15

minutes
BAKE TIME:

20

minutes
TOTAL TIME:

35

minutes
ingredients
4 Egg yolks
1/4 cup (60 mL) Sugar
2 cups (500 mL) Whipping cream (35%), divided
1 cup (250 mL) Chopped white chocolate
1 Pkg (300 g) Tenderflake® Frozen Patty Shells
6 tbsp (90 mL) Ready prepared Dulce de Leche caramel or other good quality caramel sauce
3 tbsp (45 mL) Easter sprinkles or chopped malted Easter eggs
directions
BEAT egg yolks in a small bowl with a hand mixer until pale yellow in colour, about 3 minutes. Gradually beat in sugar.
HEAT 1 cup (250 mL) whipping cream in a small saucepan over medium. Slowly whisk 1/3 of cream into egg mixture, whisk back into the pan. Cook on low for 4-5 minutes or until thickened. Stir in white chocolate until melted. Transfer to a mixing bowl. Cover with plastic wrap, directly on top of the mixture, to prevent air getting at it, and refrigerate for 2 hours.
BAKE patty shells according to package directions. Set aside to cool.
BEAT remaining 1 cup (250 mL) whipping cream until soft peaks form. Fold into cold white chocolate mixture.
SPOON 1 tbsp (15 mL) prepared Dulce de Leche caramel inside each of the baked patty shells. Fill with white chocolate mousse. Place cut out pastry tops over mousse and sprinkle with Easter sprinkles. Drizzle with additional Dulche de Leche before serving, if desired.