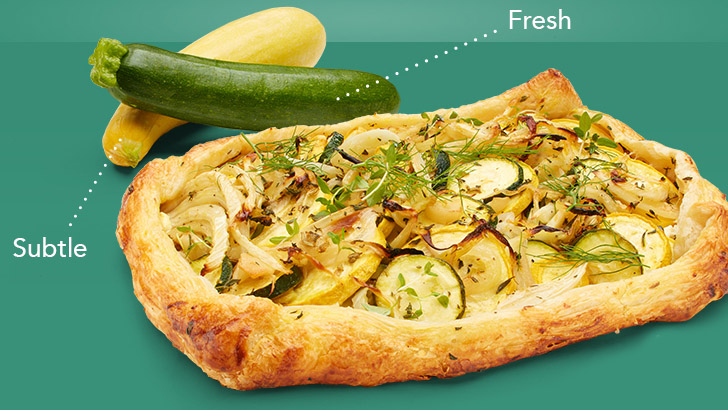 SERVES:

4

PREP TIME:

20

minutes
BAKE TIME:

35

minutes
TOTAL TIME:

55

minutes
ingredients
½ Package Tenderflake Puff Pastry block thawed
¼ cup white onion thinly sliced
½ small fennel bulb cut in half and thinly sliced (reserve fronds for garnish)
5 cloves of garlic thinly sliced
1 tsp. fennel seed
2 tbsp. olive oil
¼ tsp. Each, Salt and pepper
1 each green and yellow zucchini thinly sliced into ¼ inch rounds
Juice and zest of 1 small lemon
3 tbsp. fresh thyme chopped
½ cup goat cheese
1 egg yolkn (for coating)
1 tbsp. milk (for coating)
2 tsp. chili flakes (optional)
directions
Pre-heat oven to 400F (204C).
In a medium bowl, toss together fennel, onion, garlic, 1 tbsp. olive oil and fennel seeds; season with salt and pepper. Spread vegetables onto a parchment-lined baking sheet and roast for 15 minutes. Remove from oven and reduce temperature to 375F (190C).
In a medium bowl, toss together sliced zucchini, lemon juice and zest, 2 tbsp. of thyme and roasted vegetables.
On a lightly floured work surface, use a lightly floured rolling pin to roll puff pastry into a 10-x 12- inch rectangle. Transfer pastry to a parchment-lined baking sheet. (You can re-use previous baking sheet and parchment paper)
Crumble goat cheese onto pastry and pour vegetables over top leaving a 1 1/2-inch border. Gently fold pastry edges over vegetables, pleating to hold it in place. (a little rustic is fine).
In a small bowl whisk together egg yolk and milk and brush pastry edges.
Sprinkle galette with remaining thyme and bake for 30-35 minutes until pastry is golden brown. Garnish with reserved fennel fronds and chili flakes. Slice and serve warm with a drizzle with reserved olive oil.